Car insurance, you have to have it. The state of Missouri requires you to have it. But what does it cover? How does your Missouri Auto Insurance policy work?
Buying a New Auto is Fun
Prior to buying my last car I spent a lot of time on the internet looking at car dealer websites, auto review sites, and talking with family and friends. I was trying to narrow down what I wanted. Like anyone, I wanted a good deal.
So when the day came and I found the car I had been looking for, I knew what I was buying.
I was confident in my purchase.
Buying auto insurance may not compare to buying a new car, truck, or SUV, but you should be confident in your purchase.
Remind Me, Why Do I Need Auto Insurance?
You're the ideal driver. Safety is your middle name. Your hands are always at 10 and 2. You make sure to use your turn signal 100 feet before you turn. You always keep a safe distance in between you and the car in front of you.
The one day you wake up late, didn't eat breakfast, and your kid in the backseat is having a bad day. That's the day you have an accident.
No one plans for it to happen.
What Does Missouri Auto Insurance Liability Cover?
I have no desire to sway your opinion on when it comes to liking insurance. However, I want you to be confident you know what you're buying.
Missouri law requires you to carry insurance if you own an automobile. Specifically, Bodily Injury & Property Damage and Uninsured Motorist. Those are the two coverages that come on the most basic auto policy in Missouri.
Let's look at how those two coverages work if you're in an auto accident.
Bodily Injury and Property Damage Liability
I'm not talking about fixing your broken bones or repairing your car. I'm talking about the person (or people) in the other vehicle(s).
You're in a wreck and hurt someone. It was an accident. Of course you didn't mean to do it.
A ride in an ambulance. Time at a hospital. Follow up visits to a doctor. Loss of income. Pain and suffering. Worse yet, death of an individual (again, I'm not talking about you. I'm talking about the person(s) you ran into with your auto).
If you carried the minimum liability limits Missouri requires (see orange picture below), the most your policy would pay is :
$25,000 per person for injuries (Bodily Injury)
$50,000 per accident (Bodily Injury)
That can add up in a hurry.
Let's not forget about the Property Damage. That truck you hit is worth $40,000. The most your insurance would pay is $25,000 per accident.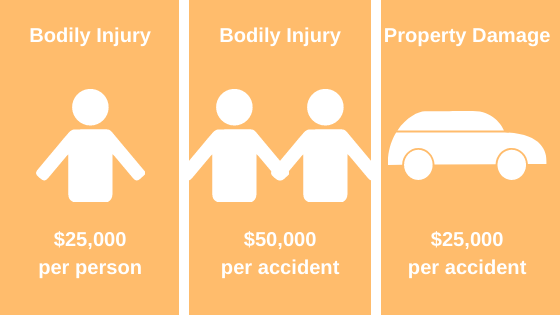 Can you afford to pay for someone else's injuries and/or damages out of your pocket if they go beyond what your insurance policy will pay?
What Happens if You Don't Have Enough Auto Insurance?
So you exhausted your auto liability coverage limits. Your insurance company is finished paying. Now what?
Every accident brings a different scenario.
The person you ran into could take you to court. Your assets could be seized. Your income could be garnished for several years until the debt is paid
Uninsured Motorist
Uninsured Motorist is the second piece to Missouri's minimum auto insurance requirement.
Let's say someone runs into your vehicle. You and your passengers are injured. The person that ran into you doesn't carry insurance. Uninsured Motorist will pay for the related medical bills for you and your passengers.
Missouri auto insurance requires coverage limits to start at:
$25,000 each person
$50,000 each accident
"The global number of cars exceeded 1.015 billion in 2010, jumping from from 980 million the year before."
That's according to a February 2013 article in Huffington Post. That's a lot cars!
In 2014 Missourians fell victim to 47,977 Persons Injured in auto accidents.
Curious what your coverage limits are? Below is a sample Declarations Page you will find in the stack of papers from your insurance company. A Dec Page will give you a brief overview of your policy and coverage limits.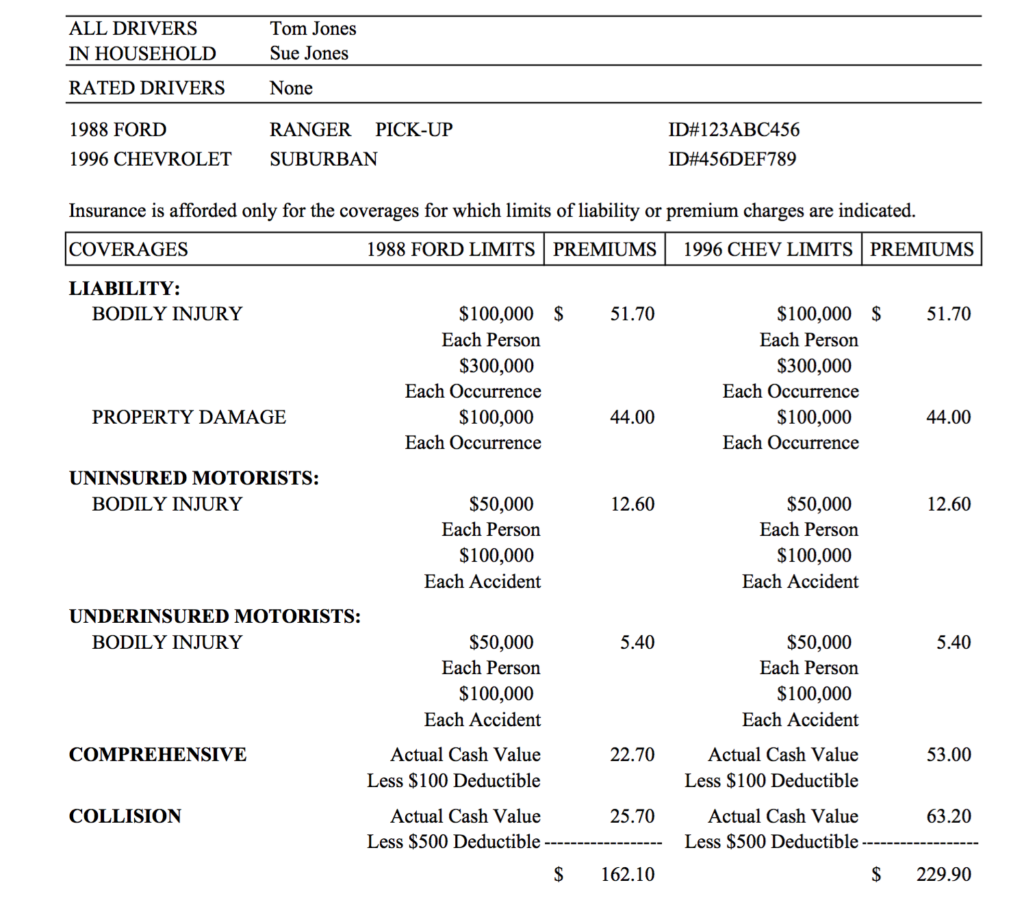 You have the ability to tailor your auto insurance policy to meet your specific needs. Above we discussed what the state of Missouri requires if you own an auto. What other coverages are available? Do you have gaps in your auto insurance?
Underinsured Motorist
Remember above when we discussed Bodily Injury and Property Damage Liability? Someone runs into you injuring you and your passengers…luckily the other party does have auto insurance…however, they carry low coverage limits.
The cost of you and your passengers injuries exceed the other parties liability limits. This is where Underinsured Motorist coverage comes into play. You can lean on your auto insurance policy to pickup where the other parties insurance left off.
Medical Payments
Whether you're at-fault or not, Medical Payments provides coverage to you and your passengers for medical related expenses. You can apply it to an ambulance ride, health insurance deductible, X-rays, doctors visits, etc.
Full Coverage
There is no such thing as Full Coverage.
I don't know who started calling it that, but when you hear someone refer to Full Coverage, they are referring to Comprehensive and Collision coverage. These two coverages provide physical damage coverage to your auto.
If you have a loan on your vehicle then your lender probably requires you to carry Comprehensive and Collision coverages to protect your vehicle.
Both Comprehensive and Collision coverage will be subject to a Deductible. More on Deductibles below.
Comprehensive
Comprehensive (also known as Comp and Other Than Collision). If you run into an animal, experience a hail storm, theft, vandalism, fire…these are all examples of a Comprehensive claim.
Collision
Let's say you back into the light pole at the grocery store. Or you swerve to miss the deer and hit a tree. These are examples of a Collision claim.
How Does a Deductible Work?
Comprehensive and Collision coverages will a have a Deductible.
Example: if it costs $5,500 to repair your car and you have a $500 Deductible, you will be responsible for the first $500. Your insurance company will pay the remaining $5,000 to repair your auto.
Extras
Each auto insurance company will offer different extra (or optional) coverages. These are not required. Some people like them, some don't. Nor is this an all-inclusive list of optional coverages for your Missouri auto insurance.
1. Roadside Assistance
Flat tire, run out of gas, need a jumpstart, or maybe tow. If you want assistance for one or all of these instances, you will want Roadside Assistance.
2. Rental Car Reimbursement
Let's be clear, this does not provide you a rental car for fun or vacation. This coverage will help pay for a rental car if your vehicle is in the shop due to a covered cause of loss.
An example of this may be you were involved in a hit-and-run. Your drivers side door is damaged. You truck is in the bodyshop being repaired.
Rental Car Reimbursement will pay a specific dollar amount per day with a maximum dollar amount available (e.g. $30 per day/$900 maximum).
3. Full Glass Replacement
Generally if you have to repair or replace your windshield you are subject to your Comprehensive Deductible.
That means if you carry a $500 Deductible and it costs $250 to replace your windshield, it's not worth turning a claim.
Some auto insurance companies will offer an endorsement that will repair or replace your windshield with a $0 Deductible.
4. GAP Insurance
You buy a new vehicle (or new to you). You borrow money from your local bank to make the purchase. One month later you total the car. You owe more on the car than the car is worth. GAP Insurance will pay for the difference so you're not paying on a car loan you no longer own. [WATCH: What is Gap Insurance?]
What's Next?
I hope this clears up some of your questions and gives you confidence in your buying decision. Know, there are no stupid questions. Ask.
Don't skimp on your Missouri auto insurance.
Looking for more? Contact us here.
Note: Auto insurance is state specific. If you live outside of Missouri, check with your agent to see how you're covered.
Photo credit: Mark Turnauckas via photopin cc