It's easy to think of your finances as the paycheck you receive every couple of weeks, the bills you pay, and money you save for a rainy day. Though your financial picture is so much more than that.
DJ Brooks, founder of Storyline Financial Planning sat down to discuss goals, priorities, and taking control of your financial future.
Show Notes
00:27: How can financial planners and insurance professional ease the burden of finances?
01:57: How does insurance fit in a persons overall financial plan?
02:44: If DJ were an NFL quarterback, who would he be?
03:02: Should you buy Term Life Insurance and invest the rest?
03:56: Is there a season in a persons life where Whole Life makes more sense?
04:47: The psychological battle of insurance.
06:25: How to protect your paycheck.
08:18: Financial secrets for people in their 20's and 30's.
09:35: Starting a budget – App recommendation.
10:28: Setting goals and aligning your budget.
11:08: Taking advantage of your 401k match.
12:20: Resisting insurance.
15:14: Split Limits versus Combined Single Limits
17:23: What should you insure?
21:38: How/where to look for an insurance agent?
24:34: Are all insurance agents created equal?
Brandon: Our businesses cross paths often. You help people build financial freedom. Build wealth. It usually puts a smile on a persons face. I help people protect it. Maybe a little less desirable at times. But finances tend to put a stress or burden on families at different times in their lives. How can financial planners and insurance professionals ease that burden on families?
DJ: Yes, that's a great question. I think you put it well. It is a burden. I think we often underestimate how much of a burden personal finances are on individuals and families. So I think from a professional standpoint from us…I'd like to think we're doing a pretty good job. But I also think it starts with education, education, education. We have knowledge and we are upheld to a certain competency to be knowledgable about our fields and our professions. Where I think we can turn around and offer immense value is through the education. I often think that their's a lot of obscurity in the financial services realm in general. Whether that's because in our culture financial education and literacy isn't up to par. But I think that's where we can offer immense value is to step in and educate clients and prospects to help them understand what everything means in a clear, concise, easy to understand language.
Brandon: How does insurance fit in a persons overall financial plan?
DJ: I think you hit the nail on the head earlier, where I get to help be a quarterback and bring all of the personal finances together and oversee everything. Hopefully we're making progress on ones financial goals and building wealth is a symptom of that. Where insurance comes into play is the protection aspect, just like you said. And mitigating the risk. I can do and make all of these recommendations. We can make all of this progress. But if someone is not adequately insured, they have one event in their life, it can erase all of that in mere moments. It is an immense, important aspect of financial planning for someone to have adequate insurance.
Brandon: You mention you're a quarterback. Who do you compare yourself to? Are you more of a Derek Carr or Patrick Mahomes?
DJ: Kansas City! I'd like to hope I'm a Patrick Mahomes. If I can do half as well as he does during the season I consider that a success.
Brandon: What are your thoughts on buy Term and invest the rest?
DJ: That's a question that's debated quite a bit in the financial services industry. It's something that comes down to the two types of (life) insurance: Term insurance and Whole Life insurance (a form of Permanent insurance). The idea there is that you're investing the premium savings between Term and Whole Life. For my clients and who I typically work with (most people in general), Term Life is definitely adequate for what there trying to achieve. There are very few circumstances where I think Whole Life is actually is the most suitable form of insurance. With that concept, yes Term insurance, but as long as we're being intentional about using the savings towards propelling us to our goals.
READ MORE: Term Life Insurance vs Whole Life
Brandon: Is there a season in a persons life where Whole Life makes more sense?
DJ: I've heard a lot of dialogue and debate about this. I think personally in my opinion and what I've come to know, the only circumstance that I've seen as a viable way of going the Whole Life route is a forced savings plan. So if someone isn't able to adequately save (money), Whole Life can be an instrument of forced savings. If at all possible, insurance is risk management and shouldn't necessarily be used as a savings vehicle unless you can't do it otherwise on your own. If you can I think there are more attractive ways to save for the future.
Brandon: We work hard to build wealth. To save. To buy things. Yet as a whole we don't want to protect it. What gives?
DJ: I know you get this push back quite a bit from clients and prospects. I get it just as much. I didn't realize it until I dug in a little deeper. What I was finding is our culture and our society, when we exchange money we typically expect there to be some immediate gratification. Some sort of immediate benefit. With their insurance that's not the case. We hope that's not the case. It's one of those things where you make payments (pay premiums) for coverage, but you hope you never have to use it because that means there is some sort of catastrophe at hand. I think it is a behavioral and psychological battle of making payments and premiums. The pain of that. But also not seeing any benefit or value from it immediately. Even though you are. The value is the peace of mind. Knowing that if something happens you would be covered.
Brandon: Where else in life do you spend money on something you don't want. Hope you never need. And when you need it, it better work.
DJ: Not very many. I can't think of any off the top of my head. It's one of those things you never want to be in the situation where you wish you had more insurance. Or you wish you had insurance.
Brandon: Imagine if we didn't have to buy groceries or toiletries. How much more we could save or invest?
DJ: Not everyone sees it that way I guess.
Brandon: Thoughts on disability insurance? Short term versus long term.
DJ: Disability insurance in general very key. I really didn't know too much about it until I went through my CFP curriculum and got the deep dive.
Brandon: What's a CFP?
DJ: CFP is a Certified Financial Planner. I am a Certified Financial Planner. There's curriculum and standards that we're held to. Insurance…the important core financial area of financial planning we had to get versed in it. I learned quite a bit about disability insurance. For most people it is honestly a little more important than life insurance. Because statistics and probability of getting a disability (i.e. getting an injury that leads to a prolonged disability) is a higher probability than a prematursde death. I think the last time I checked 1 in 5 adults will have a disability by the time they retire. When you look at that, ok this is important. Disability insurance is insuring our income and earning potential is very important because without income we can't really achieve many of our financial goals. So I place a high emphasis on that. Making sure clients don't have to imagine a time without income. As far as short term and long term disability, yes it is important to have it as long as we can. As far as the short term and long term it all depends on the length. I take a step back with my clients and look at their resources and what they're able to cover. That's where we pick up the disability insurance as far as setting the term and the elimination period.
Brandon: To figure it out, each individual is different…prioritizing their needs?
DJ: Right.
Brandon: What kind of financial checklist would you recommend for someone in their 20's and 30's?
DJ: When it comes to personal finances and checklists and having everything together, I would say they need a budget and track their expenses. That is foundational for personal finances. I would add that to the checklist. I would also add a list of all of the debt you have. Including the interest rate and all of the details about that. That's going to be important for propelling yourself further towards your goals. A list of your goals. A lot of people haven't started thinking about their goals. They're too young…They have enough time. The years go pretty quick. Having a list of goals and making sure they're detailed goals. Employee benefits…people in their 20's are getting their first adult job, they are offered benefits. That's part of your compensation package…knowing all of the benefits available to you. Those are some of the key things I would add to the checklist.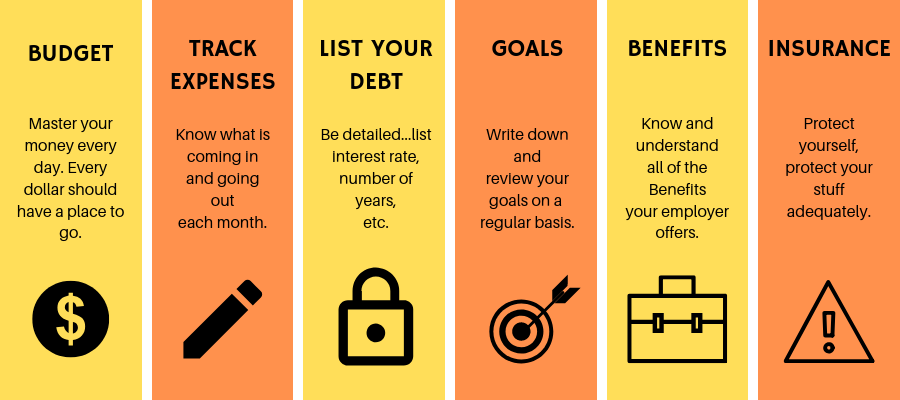 Brandon: Do you have any recommendations on a software for a budget? Is there an App out there?
DJ: There's tons of Apps. There's a lot of paid Apps. There's a lot of free Apps. I personally use and recommend to my clients YNAB (You Need A Budget). I think it's one of the best softwares out there. It's pretty affordable. There is a learning curve just like any other software. I think it does a great job…not just budgeting, but tracking. That's the other half of the equation. Sometimes people can make a budget. The tracking is the bench mark to make sure you're staying on track. Along with that checklist obviously all of the insurance stuff we're talking about. People are going to start having cars, if they're buying a house (the property and casualty insurance…making sure you're adequately insured).
Click here and start budgeting today with the YNAB App.
Brandon: Before you can go out and say I'm going to start investing and planning for this and that you need to set goals and look at your budget?
DJ: Right. Your goals shouldn't be the same as anyone else. They should be personalized and unique to yourself. It's important to know what the finish line is. What the end goal is. Without that you don't know what you need to be doing today. A lot of people take off out of the gate. But they don't know where they're going. It is a benefit that they are going, but we need to reel it in at some point in time to know exactly what we're chasing after. What we're racing towards.
Brandon: Let's say I just graduated college, I just took a job where my employer has a 401k match (I put in X amount they will match it up to a certain amount). I don't have a plan. I'm not sure what my goals are yet. Should I still go ahead and try to take advantage of that?
DJ: Yes, I think anytime you have that 401k match, that free money available to you it's never a bad decision to take advantage of that. The next check down that I recommend is making sure you have an adequate emergency fund. Then the next check down is looking at debt. Especially high interest rate debt (consumer debt). It's never a bad idea to get that match. I know there is a lot of finance personalities out there that may say to forgo that. But when you look at the affect of compound interest and time and the fact that it's free…it's part of your compensation…I don't ever recommend not taking advantage of it.
Brandon: Compound interest is magical.
DJ: It is. The ninth wonder of the world is what they used to say?
DJ: I have clients that often will resist on some of the insurance recommendations that I lead them through. They want to skimp on coverage or they see the premium and there is some push back. Do you ever see that in your line of work?
Brandon: Yeah. For instance maybe it's recommending someone look at a Liability Umbrella. Umbrella's will run $150 – $250 per year starting at $1,000,000 in coverage. That's amazing. Most people push back. They don't want to spend the extra money. We drive everywhere. There is that risk of causing an at-fault accident everyday. Maybe it's someone who owns a vehicle that has a value of $8,000 and they want to remove Comp and Collision (i.e. full coverage)…maybe they're in a position where they can't afford to replace that vehicle, but they want to save money now. They're not looking at the whole picture. If you can't afford to take care of yourself you really can't afford to skimp on that coverage. Understand I don't want to make people insurance poor. It's like life insurance. Life insurance has a stereotype of being expensive. When in reality if you're in your 20's and 30's it is the cheapest it will ever be. Who's going to make money for your family if you're not around? I'm not saying you need millions of dollars of coverage…just a little bit. And there is no better time to buy then when you're young. Unfortunately we see resistance or skimping…I realize all of us have this budget we need to be in…but to have someone that can be a sounding board. Someone to have that discussion with. And then take it from there.
DJ: I've definitely seen the same push back. I've had to verse myself in a lot of these conversations. A lot of them get emotional. But the importance of…this insurance is not something you should skimp on. This is something you shouldn't forgo for the sake of saving money. Sometimes it does happen where they say they want to go ahead and forgo the insurance. We document that as professionals. It doesn't come easy when we navigate those conversations when we know what's in their best interest.
DJ: I encountered something for the first time recently that I had never encountered before when it comes to property and casualty. It's this idea of Split Limit insurance and Single Limit insurance. Could you enlighten us on that?
Brandon: He's referring to auto insurance. When you get all of those papers in the mail from your auto insurance company…a lot of insurance companies will have what is called Split Limits. For instance, on your Declarations Pages of your policy you will see in the liability portion Bodily Injury / Property Damage Liability. It may say $100,000 / $300,000 / $100,000. The first two sets of numbers are referring to Bodily Injury. If you are driving along and cause an accident your policy would pay $100,000 per person, $300,000 maximum for someone else's injuries in that vehicle. The last $100,000 is for Property Damage. If you run into one vehicle or maybe it is a domino affect at a stop light the most it will pay is $100,000. So if you run into a new Maserati it may not be enough. Now Combined Single Limit that you're talking about…instead of splitting up the pie different ways, you get one Single Limit. If the limit is $300,000 total it could be applied to Bodily Injuries or Property Damage up to the limit of insurance.
DJ: I would assume with the Single Limit there is more flexibility depending on whether it is Bodily Injury or Property Damage that you are liable for?
Brandon: Exactly. Not every auto insurance company will offer it. It's something I would ask about. I would prefer to go with Combined Single Limit.
DJ: I was real interested when I saw that. I had to do a little research on it and educate myself.
Brandon: You see it more on commercial auto policies.
DJ: What are the things that we should be insuring?
Brandon: Obviously if you have a car in Missouri you have to have insurance. There is a responsibility that goes along with driving.
DJ: So there is the minimum requirements by state (i.e. auto liability limits)…for those that have the state minimum requirement would you recommend anything above that minimum?
Brandon: Everything above that minimum. I realize everyone has a budget, but I would stay away from state minimum auto liability limits. The cost of hospital bills are not cheap.
DJ: I've seen limits as low as $25,000 / $50,000.
READ MORE: Is State Minimum Auto Liability Enough?
Brandon: The cost to repair stuff is not getting cheaper. Stay away from the state minimum. Have that discussion…no one should be forced to buy more (insurance). Have a discussion with your insurance professional. What else should you buy insurance on? Of course if you're buying a house…if you have a mortgage you're going to be required to insure it. In reality, if you didn't have a mortgage would you cancel your insurance? Could you afford to replace your house and personal belongings? Those are the things you have to think about. From a liability point of view, what could go wrong? I realize it is a what if. Hopefully it will never happen. The tangible things…your house, your car, maybe it's a wedding ring…if it burns up or blows away can you financially afford it?
DJ: With homeowners insurance we often think of just the house, but often times you dig in and look at all of the contents in your house, now add that value up.
Brandon: We live in the day and age with the internet where you can start a business at home. I realize you may be on a bootstrap budget, but depending on what you're doing, more than likely your homeowners insurance will not cover a business at home. Those are things to consider. It's hard to think about a liability claim that may come up in their business or life, but we're not immune. Stuff like that happens all of the time.
DJ: Like you said, the day and age where home based businesses are frequent and easy to do, but when you take a step back, that's your livelihood you may be putting at-risk.
DJ: Is there anything else we should be insuring?
Brandon: Life…no one wants to talk about their mortality. I get it. If you're in your 20's and 30's…if you're newly married. Now is the time to buy it. To explore it. There are different types of life insurance out there. Maybe it's Term Life Insurance or Term Return of Premium where you get all of your money back in the future if you're still alive. There is a lot out there. It goes back to planning, prioritizing, setting goals.
DJ: If you have dependents…if you have people relying on you for provision and income, looking into life insurance is one of the most intentional and thoughtful acts we can be doing. I know a lot of times people will say, "I don't want to pay another $50 per month" or "I don't want to pay another $100 per month." But when you take a step back and look we are not impervious to catastrophic events. How are you going to provide should you die prematurely?
DJ: Like the financial services industry, everyone knows a guy or gal. Everyone knows a financial advisor. Everyone knows an insurance guy or gal. What's the best place to start looking? What are the top things that consumers should know going into looking for insurance agent?
Brandon: First off, talk with friends and family. You can't beat friends and family. It's who you trust. That's who I would talk to first. Also, use the internet. See who is in your area and specializes in what you're looking for. Once you find some prospective insurance agents, reach out to them on the phone. Set up a meeting with them. Interview them. Talk to them. Ask them questions. Before you do that, take a step back and set expectation for yourself. What do you expect from your insurance agent? What do you expect from your insurance company? Then go talk to that insurance agent. Find out what their expectations are from their customers. Because at the end of the day it's a partnership between you and your insurance agent/insurance company. It's a team. You have a financial planner, you have an attorney, a Realtor, a Pastor, a dentist. These people are part of your team. Everyone is striving to win. To win you have to have a good solid team. It has to be someone you trust. There has to be communication. If you don't have communication or trust then it probably won't be a good fit. Just because your friend of 20 years works with so-and-so it may not be the right fit for you.
DJ: You just said so many things there…I was thinking yes, yes, yes. Interviewing…that's huge. I think a lot of times people don't want to put in the time to interview. But how much information you can learn in the interview process about different professionals. Whether it's something they say or something they don't say or their nonverbal. There is a wealth of information in that process. I always tell prospects I meet with that if they haven't met with other financial planners they need to do so. Because I don't want to be the only person they have met with. I don't want to be the standard for the profession. And expectations…spot on. That's something I run through with my clients. That's where a lot of conflict happens. The client expects one thing. The agent or advisor expects another thing. They haven't communicated it.
DJ: This may be a loaded question…are all insurance agents created equal?
Brandon: No. No is my simple answer. Unfortunately there are those that are out there trying to sell a policy and hit their numbers. There are those who are more into sales and less on educating, communicating, and really get to know the person. Maybe it is selling someone a policy that doesn't meet there needs. Maybe it is state minimum auto liability limits. Maybe that person was adamant they wanted that and would buy anything else. That may also be all they were offered. Unfortunately no it's not all the same.
DJ: We see it in most professions. Even the financial advising profession. For the viewers and consumers, doing your due diligence and research. Knowing that you need to have a role in the education part of this. We hope that every professional is doing their job educating, but that's not always the case. But at least if you're educated a little bit you can give yourself a chance at avoiding some headaches.
Brandon: Think about it…when you buy a car you get in and test drive it. You smell it. You drive it. You kick the tires. It should be the same with insurance or a financial planner. Get in and kick the tires a little bit. Find out if it's the right fit for you.
DJ: I think with any bonafide professional they're not afraid of that. They understand and they're willing to because they know they will stand out if they are tried and tested.