Would you consider going to a doctor who advertises, "cheapest in town" or "procedures in 10 minutes or less"?
There are two things at play everyday in a persons life: the ability to save money and conserve time. We all want a deal. Moreover, who doesn't want more time? The challenge is – good, fast, cheap: pick two. The caveat; you can't have your cake and eat it too.
A lot of insurance companies are striving to see who can earn your business the fastest. They inform you to go to their website, fill out five questions and voilà, here's your quote. Now you can get back to doing something fun or more important.
The insurance industry has conditioned us to think insurance is a commodity. You can argue it either way. The irony is the very thing we're protecting is our financial health.
You are worth more than 15 minutes.
"There is more to life than increasing its speed."

-Mahatma Gandhi
The Value of Time
Your time is valuable. It would be selfish of me to ignore this fact. Every day we receive the gift of 24 hours deposited in our "bank accounts".1 You get to choose how you spend/invest your time.
James Clear talks about being aware of and creating "Time Assets vs Time Debts" (you can read it here). A Time Asset is a decision you make today that will save you time in the future. Where a Time Debt is a choice you make today that impacts your time in the future.
Learning to master your time in an efficient and effective manner is tremendous. It will pay dividends in the future.
What Matters Most
Where you spend your time is a reflection of what matters to you.
If you always talk about getting in shape, but never make an effort to consistently workout, getting in shape isn't a priority of yours.
Going Fast Doesn't Always Lead to Victory
Remember the story of the Tortoise and the Hare? The Tortoise kept his head down and focused on the race at hand.
Your time is important. There is no arguing that. Yet there are things in life you wouldn't rush…
Marriage: we're talking about the person you plan to spend the rest of your life with…the person you will wake up next to, plan your future. Your ride or die.
Children: if you wait until the perfect time to have kids, you will never have them. Yet having the maturity and self awareness to know when you're ready is key.
Large Purchases: a new house, a car, a business…large purchases are not something most people rush into.
What Could Be More Important?
There is a newer insurance company called Jetty who claims they can set you up with a renters insurance policy faster than you can make coffee…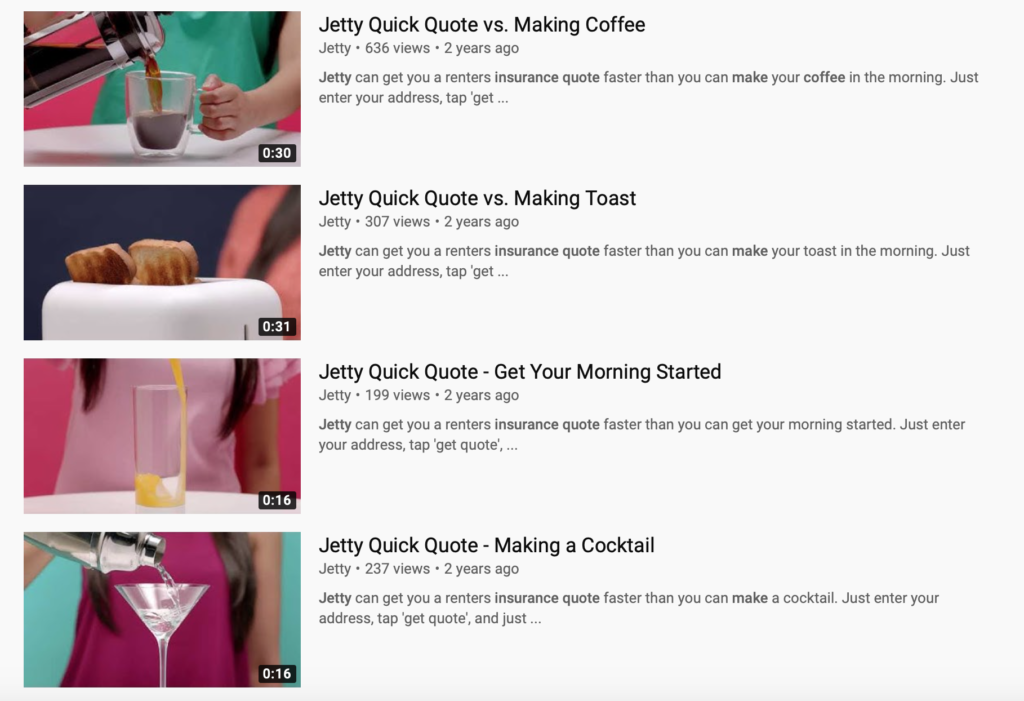 According to researchers at Stanford Graduate School of Business and the California Institute of Technology, if a person is told he or she is tasting two different wines — and that one costs $5 and the other $45 when they are, in fact, the same wine — the part of the brain that experiences pleasure will become more active when the drinker thinks he or she is enjoying the more expensive vintage.2
"What we document is that price is not just about inferences of quality, but it can actually affect real quality," said Baba Shiv, Sanwa Bank, Limited, Professor of Marketing who co-authored the paper.
Good, Fast, Cheap: Pick Two
This leads me to the heart of the conversation. All of us want good, fast, cheap.
It reminds me of the Seinfeld episode, The Cheque After a Meal. Jerry Seinfeld starts out saying
"Money is a very different thing before and after you eat. Before you eat, money has no value. You know how you don't care about money when you're hungry…you sit down in a restaurant. You're like the ruler of an empire…"
Money is a very different thing before and after a claim. We want the cheapest, quickest, best insurance policy we can buy. We don't have time for insurance. What's the worst that could happen?
To the person who experiences a loss, insurance becomes concrete.
Chip Merlin, insurance attorney who works with policyholders (i.e. people like you and I), wrote a short article about this very topic. Here's a snapshot of his article:
"Those same executives who are selling "fast" are also in charge of overseeing the claims department. I think about that when people ask me "why" my law firm has grown to over 63 attorneys and "why" there are so many more insurance claim disputes."
Good, Fast, Cheap: Pick Two
Good, Fast, Cheap. You get to pick two, but never all three.
Cheap + Fast = It will lack quality.
Fast + Good = Plan on it costing.
Good + Cheap = Good luck.
What's more important, quick and cheap or being covered for a six figure loss?
Benjamin Franklin put it like this, "the bitterness of poor quality remains long after the sweetness of low price is forgotten."
The late John Eubank, CPCU, ARM, put his spin on it, "The bitterness of no coverage is remembered long after the sweetness of low price has been forgotten."
You will spend the extra money on a Traeger Grill to smoke the perfect ribs, yet you won't protect your paycheck.
When you leave your home for the day, do you lock your door?
Do you let anyone watch your kids?
"There is hardly anything in the world that some man cannot make a little worse and sell a little cheaper, and the people who consider price only are this man's lawful prey."

-John Ruskin
Spend More Money?
Hear me out..This isn't a sales pitch for you to buy more insurance. I'm not telling you to become insurance poor. On the contrary.
Maybe you need more coverage, but can't afford it. You shouldn't feel guilty about it. Talk through your situation. Create a game plan.
I believe we can all agree there is a hidden cost of cheap.
A doctor can't diagnose someone in two minutes or less. He/she takes time to ask questions. Learn about your situation. About your past.
Insurance is the same. Taking time to learn about your business or family. The policy/coverages you buy may not be the exact same as your neighbor or competitor.
Best of Both Worlds
Not everything in life is sexy. Going to the doctor sucks. But wouldn't you rather see the doctor for a preventative visit than an, "oh Doc, what's going with _____?"
Communication is a two way street with your insurance professional.
When do you expect a proposal back?
Why did my premiums go up?
Do I have enough coverage?
What does "this" coverage do?
Can I save money somewhere on my insurance?
If you don't know, ask. Most people have a pretty good BS meter. If you think your insurance agent is full of crap then it's time to consider your other options.
What are the things you value most?
How are you protecting those things?
Insurance is designed to insure. Open communication with a trusted partner will go a long way.
Good, fast, cheap: pick two.
1 Time is More Valuable than Money
2 Baba Shiv: How a Wine's Price Tag Affect Its Taste