You wake up one morning and think 'hmmmm, I wonder if I'm paying too much for my auto insurance.' So then what do you do?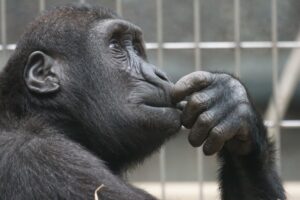 It could go something like this:
Call your local State Farm agent, 'Hi my name is Julie, I was wanting to get an auto insurance quote?'
You'll give them your full name, address, phone number, date of birth, social, driver's license number, vehicle year, make, model and VIN number, and you'll tell them what type of coverage you want. They'll thank you and tell you they'll call you back with a quote.
Repeat with local American Family agent, blah, blah, blah agent,……………… Before you know it you have repeated your spiel 6 or 7 times. Seriously, you could have just made a recording to play for the people. But, you do it because you are looking for the best deal, the best coverage for the best price. A couple of hours later, the phone starts ringing. People are calling back with your quotes. You grab the closest thing to write on (a napkin) and the closest writing instrument (a crayon). You began taking notes. Blah, blah, blah bodily injury limit, blah, blah, blah collision deductible, premium is X dollars. Ok great, you have no idea what those numbers mean but you know the cost.
Agent 2 calls back, hmmm the coverages are a little different. You wonder which is better. Is one worth the extra cost of the other? You now have 7 different quotes. All are a little different and the premiums vary as well. Now you are left with the task of deciding which plans offer you the best coverage for the money and trying to decipher the illegible notes you took.
OR
Why Choose an Independent Insurance Agent?
You could call your local independent insurance agency. With one phone call, one spiel, they will do the shopping for you. They will quote you with 6 or 7 companies. They are trained insurance professionals. They will decipher the different quotes and help you understand which meets your needs the best and gives you the greatest value for the money. All insurance companies have a niche. They have an area they are most competitive in. Some like older retired people, some like young drivers, some like people that have had tickets and/or accidents. We find that company for you. You just sit back and wait (Just think about all the free time you will have from not having to make ALL those calls.).
READ MORE: Independent Agent vs Captive Agent: What's the Difference?
Picking the Right Insurance Agent
Did you know that independent insurance agents actually work for you and not for the company like their direct counterparts?
It's true.
Captive/direct agents work for the company; they must follow their rules and guidelines and are told what to do and how to do it.
Independent agents, on the other hand, work for you. If you aren't happy with one company they can work to fix the problem for you or they can move you to a different company. They have choices and we all love choices.
This is the advice I always give my friends: "Call your local independent insurance agent."
I'm not saying call us (unless of course we're local) but they know the market in your area. Just because Uncle Bob in Connecticut loves XYZ Company and thinks they have great rates doesn't mean they will be worth a darn in your area.
Independent Insurance Agents know their companies and know what will be a good fit for you.
According to a recent article in the Insurance Journal,
"The independent agency system continues to be the leader in commercial lines, holds a significant share of personal lines and dominates both lines in some states."
It's No Secret
Commercial customers have known about independent agents for years. They know they can get the best coverages for the best prices. Nationwide Independents write just under 60% of all commercial accounts. They write more than ALL the captive agents combined. ALL of them.
Personal customers are starting to follow trend as independents gain more market share year after year. A recent study showed them having approximately 35% of the market.
This is more than any one captive company writes alone. Numbers don't lie.
Your New Independent Insurance Agent
We would love the opportunity to earn your business. Since 1968 we have crafted insurance policies for individuals, families, and businesses throughout northwest Missouri.
And remember if you have an independent agent and you become unhappy with your current insurance company CALL the agent they will be able to help you.
Let us do the shopping for you.
It's as simple as that!