It's your average Saturday morning. Your son Tommy informs you he's off to go fishing with his friends. Tommy jumps on his 4-wheeler to head over to Rusty's. When he arrives, Rusty and their friend Gus are patiently waiting on Tommy. The three of them pile on the 4-wheeler and take off. Going a bit too fast through a field, Tommy wrecks the 4-wheeler. The boys wind up in the emergency room with broken bones and stitches. The parents of Rusty and Gus are suing you for their sons injuries.
Luckily, you have liability insurance on your 4-wheeler. But the lawsuit exhausts the liability limits on your policy and you're left holding the bag.
Between medical bills (for Rusty and Gus) and defense costs, the total comes in at $505,000 ($205,000 more than your policy covers).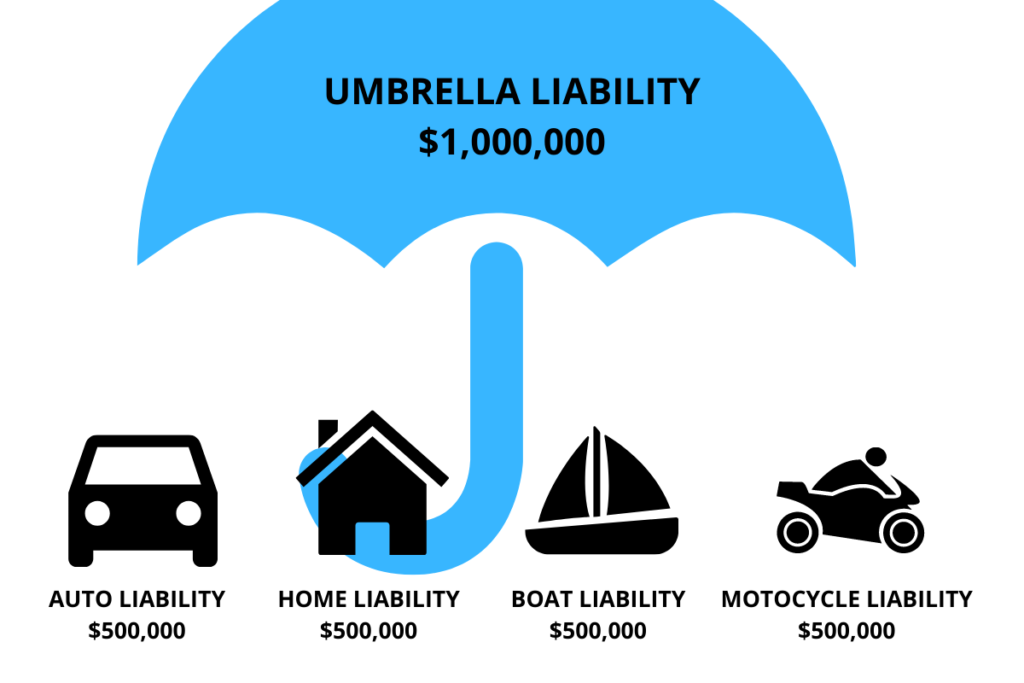 What is a Personal Liability Umbrella?
Auto, homeowners, boat, and ATV policies all provide liability coverage for specific situations. In the event you max out your liability limits, like the story above, you can be left liable for the remaining damages.
Imagine an Umbrella that sits over your autos, home, boat, and ATV. This Umbrella follows you where ever you go. Should you experience a worst case scenario that zaps your underlying liability limits, a Personal Liability Umbrella steps in to provide an additional layer of coverage.
A Personal Liability Umbrella is a separate policy by itself. Coverage limits start at $1 million and go up from there. It provides coverage for you and members of your household.
Going back to the story of Tommy and his friends. If you had a $1 million Umbrella, it would have stepped in to pay for the excess $205,000.
A Personal Liability Umbrella does NOT cover…
To be clear, a Liability Umbrella provides you with an additional layer of liability. It does not repair or replace your autos, motorcycle, home, boat, etc. Nor does it extend coverage to business ventures.
What Does an Umbrella Cover?
In short, if your underlying liability (i.e. your auto, home, boat, motorcycle policy) becomes maxed out, a Personal Umbrella steps in to provide another layer of liability. If you're legally liable for causing:
Bodily Injury to others
Property Damage
False Arrest
Slander
Libel
Defamation
Loss of Income
Pain and Suffering
Not only will the policy pay for damages, but it will also pay to defend you in court.
Optional Coverage
One thing you will find some insurance companies offer as an additional coverage option on your Liability Umbrella is Excess Uninsured/Underinsured Motorist. This applies specifically to your auto insurance.
Your auto policy may (or may not) have one or both of these coverages…
Uninsured Motorist: Someone runs into your vehicle, causing injuries to you and your passengers. This person doesn't have auto insurance. Uninsured Motorist can be found on your auto policy. It will help pay for you and your passengers injuries.
Underinsured Motorist: Similar to Uninsured Motorist. The difference is, the person that hit you has auto insurance. Their Bodily Injury liability limits aren't adequate enough to pay for the injuries to those in your auto. Their auto insurance will pay for some injuries, then you may have to rely on your auto policy to help pay.
Adding Excess Uninsured/Underinsured Motorist to your Personal Umbrella would give you an extra layer to help pay for injuries for anyone in your vehicle.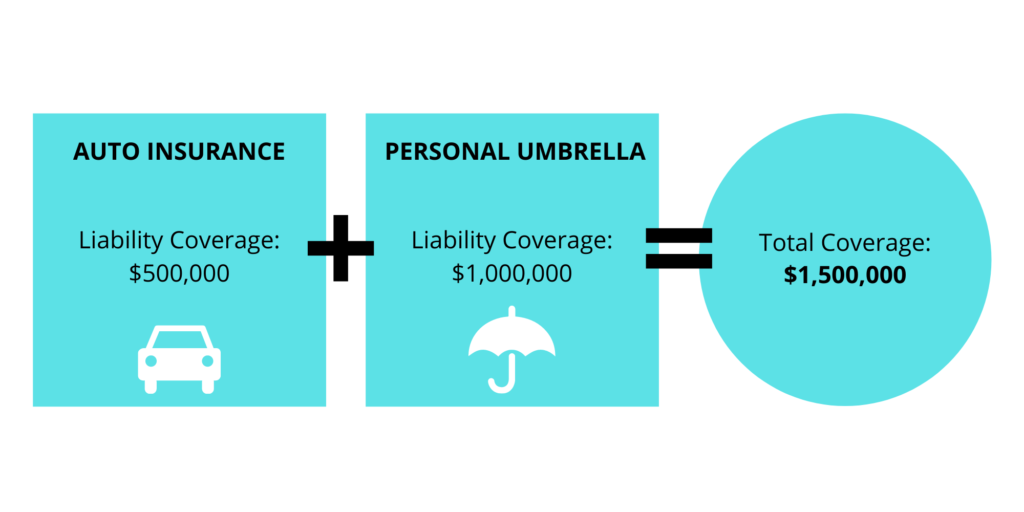 Who Needs a Personal Liability Umbrella?
You don't have to be a millionaire to be sued for a million.
Own property(ies): Whether you own a home (the place you entertain/sleep) or you own multiple properties.
Kids: Your kids are angels. I get it. But they're not perfect. Therefore leaving you liable for their actions.
Host Parties: Beers and brats on a summer Saturday with your buddies. No problem…unless one too many leads to an accident. Leaving you, the host, in a financial dilemma.
Investments: 401(k), IRA, SEP, Stocks, Cryptocurrency, rental property…you name it. You've worked hard to save. To build. Exhaust your underlying liability limits and you may have to liquidate to pay damages/attorney's.
Serving on a Board: You volunteer at a local charitable or religious organization. Someone in the community is upset with how the Board has managed their money and chooses to sue the organization. Liability coverage from your homeowners insurance typically will not provide any coverage for you in this situation. Verify that your Liability Umbrella will extend to these types of activities.
NOTE: Before serving on a Board, verify that the organization has a Directors and Officers Liability policy in place. This protects the Board for the decisions they make on behalf of the organization. A few common claims: conflict of interest, breach of duty, mismanagement of money, discrimination, wrongful termination.
Own Toys: Boats, motorcycles, ATV's, UTV's, golf carts, etc.
Future Earnings: Chances are you have several years left of your working life before you retire. You may not own much, but you can be sued for future earnings.
Pets: Your dog would never bite anyone…There's a first time for everything.
Swimming Pool (or hot tub): You may have your pool fenced with a locked gate. Unfortunately accidents happen.
HOT TIP: The best way to avoid the slightest possible issue in life – own nothing, do nothing.
What Are Some Real World Examples?
These may seem far-fetched. What could possibly go wrong?
Your Dog
On your daily walk with your dog you meet another person walking with their dog and young son. Your dog takes off after the other dog. It catches you off guard and the leash slips out of your hand. The young boy is caught in the middle of the dogs fighting. The boy is taken to the emergency room for stitches.
Brats and Beers
The weather is perfect for brats and beers on the deck. You invite a handful of friends over for the evening. Bobby leaves late that night after having a few too many, causing an auto accident on the way home. You're being pulled into the lawsuit since you hosted the party.
Babysitting
Your daughter has been babysitting for a few years. Tonight she's watching a couple of young kids on the other side of town. She happened to leave the 6 month old in a walker alone for a few minutes. The child managed to tip over the walker causing severe head injuries. The parents of the 6 month old are suing you.
How Do Insurance Companies Determine a Premium?
There are several things that impact the premium of a Liability Umbrella policy. Here are a few key factors…
Location: Each state will be different.
Driving History: This includes everyone who lives with you. Poor driving history will generally lead to higher premiums.
Credit Score: Whether you believe it to be right or wrong, your Credit Score is one of many ingredients used to determine a premium.
Youthful Drivers: 25 years of age and younger is normally considered a Youthful Driver. Historically, young drivers are inclined to have an accident due to lack of experience. Premiums tend to be higher with young drivers. Look at it like this, you had to learn to drive once too. This is a short season of life. Teach them good habits now.
What Does a Personal Liability Umbrella Cost?
The average cost for a $1 million Umbrella can run between $150 – $300 annually. Umbrella's are a separate policy from your home, auto, boat, etc. An Umbrella will be the cheapest policy you purchase. In turn, providing you with vital protection.
Minimum Requirements
Most Personal Umbrella insurance companies will have a minimum liability requirement on your underlying policies (i.e. auto, home, boat, etc). For example, your auto liability limits may look like this…
Bodily Injury Liability: $100,000 each person / $300,000 each accident
Property Damage Liability: $100,000 each accident
The Umbrella insurance company may require you to increase those limits to look like this…
Bodily Injury Liability: $250,000 each person / $500,000 each accident
Property Damage Liability: $100,000 each accident
The minimum requirements vary with each insurance company.
What do you have to lose?
Everyone has goals, future earnings, a lifestyle they're accustomed too, and assets. Maybe you have more or less than your neighbor. A twist or bend in the road of life can change your trajectory.
Are your insurance limits keeping pace with your asset growth?