Wills, Trusts, Directives…where do you begin? Aaron Johnson, partner at Summers & Johnson, P.C. in Weston, Missouri provides some guidance on getting started with Estate Planning.
Show Notes
0:00: Who is Aaron Johnson?
1:34: Getting Started with Estate Planning
2:47: Documents everyone should have
0:00: Wills versus Trusts
1:10: Wills and Trusts: Not just for wealthy individuals
2:09: Crafting a Will/Trust online versus calling a professional
Part 3
0:00: Is having beneficiaries, TOD's, and POD's on everything enough?
Part 4
0:00: Taxes and Estate Planning
1:12: What is a Power of Attorney?
Part 5
0:00: What is a Medical Directive?
1:22: Advice for parents
Part 6
0:00: Create a plan to avoid family issues later
1:28: Should I share my plans with family members?
Part 7
0:00: Do I need to prepare before meeting with you to craft an Estate Plan?
1:05: How often should I review my Estate Plan?
Part 8
0:00: Final thoughts from Aaron
1:22: What is Probate?
Part 1
Brandon: Aaron, thank you for taking the time out of your busy schedule. I appreciate that. It's funny, with insurance it's about, "how much insurance do I need for the what if?" and balancing premiums. When it comes to Estate Planning, we all have an expiration date. We're all going to pass. Yet it's a challenging topic to plan for. I want to touch on that, but before we do, tell me about yourself. Who is Aaron Johnson?
Aaron: Who is Aaron Johnson? Well, the story is fairly simple. I grew up on the farm…Northwest Missouri. Most people think lawyers grow up wanting to be lawyers, that's not true for me. It never even occurred to me. I grew up on the farm. I went to college at Northwest Missouri State University in Maryville. When I was there it started popping into my mind. I didn't decide to go until I had worked for a year. At the time, it looked to me like lawyers were involved in all sorts of things. Lots of opportunities to make a real difference for people. That was a motivation to go to law school – to try to help people in some fashion, and I didn't know how. It's been a long 30 year journey, but I've found some ways to help people.
Brandon: You were a Bearcat…where did you go to law school?
Aaron: Washington University in St. Louis.
Brandon: Estate Planning…when I hear Estate Planning, Wills, and Trusts, I think of someone nearing retirement or they are in retirement planning ahead. But people in their 20's, 30's, and 40's probably should be looking at this…having those conversations…is that true?
Aaron: The unfortunate truth is we don't know the time that our time will be called. There is no set time people should think about it. The moment a person turns 18 there are some documents they should have just in case. In fact I've made my children sign a Power of Attorney and a Living Will when they turned 18 because at that point I'm no longer legally able to act for them. So there are documents, even if you don't have any property, there are things all adults should have so if some terrible thing does happen, their family is in as good of a position as they can be to make decisions.
Brandon: What are some of those documents people 18 and older should have?
Aaron: The basic ones are, General Durable Power of Attorney, a Healthcare Power of Attorney, and a Living Will. Basically an Advanced Directive that says whatever the persons wishes are. Typically it's, "if I'm in a coma and I'm not going to recover, don't take extraordinary measures to keep my body alive". That's what most people want. The document can say whatever the person desires. Without those documents, the family members will have to go to a Probate Court and have someone appointed to make the decisions. The person chosen may or may not be the one wanting to make the decisions. The best way to control your own fate is take care of it ahead of time. Write it down.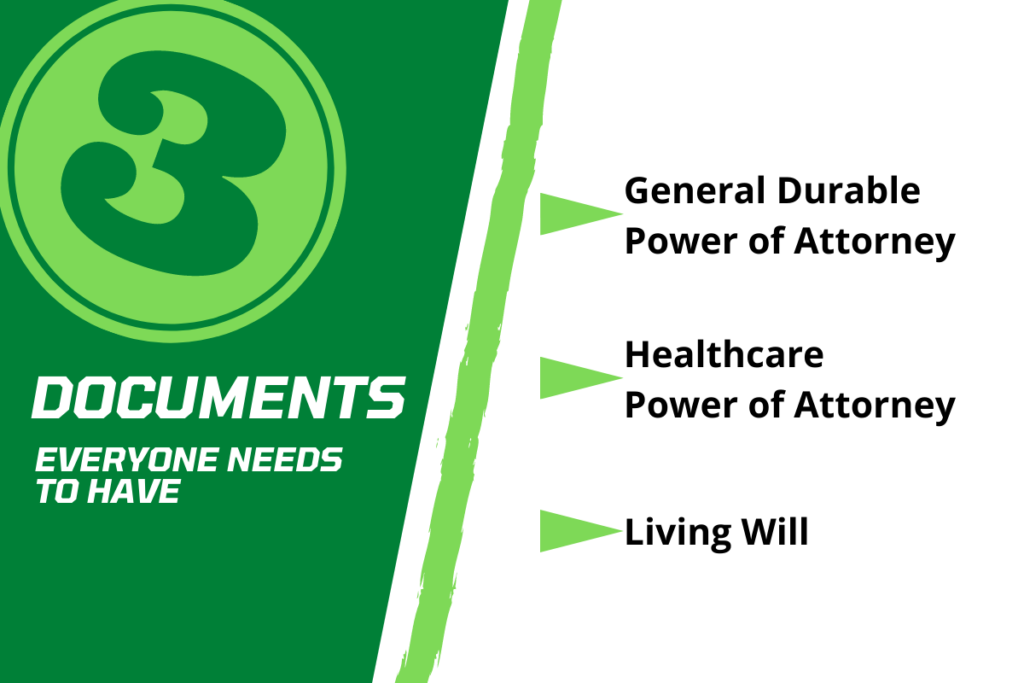 Part 2
Brandon: Wills versus Trusts…What's the difference? Do you need both?
Aaron: They do go together. This is a complicated question that usually is decided after a long discussion. For some people a Will is fine. That's all they need. For many people a Trust is more appropriate. But even if you have a Trust, you also need a Will. They go together. It depends on your circumstances, whether you need one or both. The important thing to know about the difference between a Will and a Trust is property that passes through a Will still has to go through Probate. Property that is dealt with through a Trust does not have to go through Probate. Most people would prefer to avoid Probate. One of the primary advantages of a Trust is the property that is directed by the Trust does not have to go through Probate.
Brandon: Will versus Trust…It doesn't matter if the person is wealthy…is there a purpose for both of them?
Aaron: Yes, absolutely. They have different purposes. They have different functions. For instance, younger people that have small children – the Will is the document that designates who the Guardian and Conservator would be for the children. They absolutely have to have a Will. But they would probably also want a Trust, so if something happen to both of the parents, there is someone designated to handle the property for the benefit of the children. And with a Trust, you can designate ahead of time at what age you want your children to receive their inheritance. Whereas with a Will, they will receive their money or property when they turn 18. That's a big factor for people with small children.
Brandon: Why should someone call you versus buying a Will online?
Aaron: You can get a lot of things off of the internet. I'm sure you can find a Will. It might even say what you want it to say. You have to make sure it's executed properly. In Missouri, Kansas (most states), there are requirements for how a Will is executed for it to be valid. You would have to make sure that was done properly. But the problem with anything like that is you don't receive the advice and counsel of someone who knows the process. So a Will might not be what you need. A Will might not take care of the issues you're concerned about. I understand people don't necessarily want to call a lawyer…pay a lawyer. But sometimes if you spend a little money, the result it much better.
READ MORE: Complete Guide to Term Life Insurance for Millennials
Part 3
Brandon: We've talked about having correct Beneficiaries, like on a life insurance policy. And having TOD's and POD's on your accounts and vehicle. So that's not enough?
Aaron: Actually, it could. Depending on your circumstances. I've had situations where we have a Will and we do TOD's, POD's, Beneficiaries, and a Beneficiary Deed. Those documents act so that when someone passes away the property automatically passes to the people designated in the document. For instance, if you have a couple that has two adult children and they want all of their property to be split equally between the two children we might do a Beneficiary Deed that would say when we pass away, this real estate will be owned by my two adult children equally. If you make sure you include all of your assets (i.e. bank accounts, retirement accounts, investment accounts, cars, real estate…all of the things you own), you could do that. You would also want to make sure that you have a Will so if you miss something, you've got it all covered. It is part of the planning process…how do we title all of these different assets?
Part 4
Brandon: Tell me about taxes…why should they be discussed during the Estate Planning Process?
Aaron: A lot of people that come to me are worried about estate taxes. Under the current law (i.e. the minimum amount of an estate that you would owe taxes) is about $22 million. For most of my clients, estate tax is not a concern. That number will probably change in the future depending on who gets elected and what happens in our country. It's unlikely that it will go below $6-$8 million. Maybe $10 million. Who knows…but it will be pretty substantial. For most people estate taxes are not primary consideration when you want to create an Estate Plan. Obviously for folks that have been more successful, then that's an issue and it can get more complicated. But for most people estate taxes aren't really a concern.
Brandon: You mentioned in the beginning, Power of Attorney. In general, what is a Power of Attorney?
Aaron: A Power of Attorney is a document that designates someone to be your legal agent. A General Durable Power of Attorney designates one or more people to be your legal agent. To conduct whatever transaction or business you've given them permission to do. So a General Durable Power of Attorney generally gives people the same legal rights to do what you could do. The reason you do that is because something might happen to you. Your bills have to be paid. Your business has to be taken care of. Somebody has to take care of the financial transactions that you would be involved in. And that's not you anymore. Everyone needs to have of those. Same with a Healthcare Power of Attorney. You want someone designated to make the decisions for you if you're not able to.
Part 5
Brandon: Let's talk Medical Directive…What is it? Should I be thinking about that?
Aaron: That's another one of those what if documents people don't want to think about. Legally, if you don't state what your wishes are, the healthcare providers are supposed to do whatever they can to keep your body alive. In today's medical/science scenario, there are lots of things that can be done to keep you breathing and keep your heart pumping. Even though there's no quality of life. Most people, if they think about that, probably would prefer not to be in that situation. The Living Will and Advanced Directive is your clear, written expression of your wish with regard to how you want that to go. Obviously no one is going to end your life prematurely, but there are steps that can be taken to prolong your life, when maybe you don't want that. So that's what a Living Will does for you. It gives your family and healthcare providers your direction on how you want that to go.
Brandon: What advice do you have for someone who has small kids?
Aaron: I wish I could get this message to every parent that has a minor child. If you want a specific person (or people) to take care of your children if something happens to you, you need to put that in a document that the law will recognize. It's not good enough to tell you Mom, "hey Mom, if something happens to me, I want you to do this…" Because what will happen without your written, legal expression of your intention, that issue will be decided by a judge. Depending on your family situation, there might be fights about it. The judge might not choose the route you would have chosen. At the very least, parents of minor children need to have a Will that designates who the guardian and conservator will be.
READ MORE: Term Life Insurance vs Whole Life
Part 6
Brandon: I've heard of people contesting Wills. Is there a way to prevent that from happening?
Aaron: You can't prevent it from happening, but you can include provisions that penalize family members or heirs that try to contest a Will. The best way, in my opinion, to avoid the ugly fights that can happen is to have a plan that is clearly laid out and properly, legally executed. It's been my experience that most of the time if the heirs know this is what my Mom or Dad wanted they will accept that. But if there is no plan or if there's a haphazard plan, there are many areas that can be contested or questioned. Those are the times when old family disputes can rear their ugly heads again. So in my opinion, the best way to avoid any sort of family battle is to have a plan. Have it written. Have it clear. Make sure that it's beyond dispute. Then it typically goes smoothly.
Brandon: Is it good to tell the rest of your family about your Estate Plan?
Aaron: You don't have to tell them what your plan is, but you do need make sure someone knows where the documents are and has access to them. If you have people that you trust who are going to be your Trustees or your agents, I recommend giving them a copy of the documents. But your plan can be as private as you want it to be. You do not have to tell family members specifically what you intend. But you do want to make sure that the people chosen to execute the plan after your gone know where it is and how to get to it and generally what they might need to do.
Part 7
Brandon: What kind of discussions or things should someone do to prepare before actually coming to talk to you?
Aaron: Not much. I have a questionnaire I send people because I like them to have an opportunity to think about things ahead of time. It would be nice if you had a general list of your assets (i.e. bank accounts, real estate, life insurance, etc). The main goal is to get you here so we can have this discussion. I don't want to give you a big to-do list before hand because sometimes it never happens. The to-do list is too intimidating. You might give a little thought to what your concerns are. Jot down what you own. Otherwise, give me a call and let's set up a visit so we can have that discussion.
Brandon: Someone that is younger…30's, 40's, even 50's, there is a lot of life ahead. As things change over the years, how often should you update these documents?
Aaron: Once you have a plan, that doesn't mean your planning is over. It just means your plan is in place right now. As things change in your life, you definitely need to reconsider your plan, look it over. Ask yourself, "are these still the same people that I want to manage my affairs? Take care of my children?" The timing is different for everyone. But every few years is a good idea to pull it out, glance through it, make sure it still sounds like what you want. Obviously when events happen in your life that's the best time to reconsider this. I'm glad you brought that up. It's not something you put in the drawer and forget about. It's something you need to reconsider periodically.
Part 8
Brandon: Any advice you want to share?
Aaron: When it comes to Estate Planning, I've found that it's a topic many people don't want to consider, but it's easy. It's really easy. It's not that expensive. Everybody needs an Estate Plan even if they don't have millions of dollars. The reason you do an Estate Plan is because you want the time after your passing to go as smoothly as possible for the people you leave behind. That's why you do it. It doesn't cost anything to call me. Most Estate Planning lawyers are willing to take a phone call. Not charge anything for a few questions and see if it's something that you're interested in. If it is, we can set up a visit. The cost is really insignificant when you consider the peace of mind that comes from it. And Probate is not cheap. Most of the time we can avoid Probate with a few well crafted documents and a little bit of planning. My basic point would be, just do it. Don't put it off.
Brandon: What is Probate?
Aaron: Probate is the legal process for transferring ownership from a deceased person to their heirs. Probate isn't too complicated, but it does cost money, takes time, and it's public. Your assets will be available for the public to see. It can be disruptive, but it can be avoided for the most part. It's not the end of the world, but it's also something people that have been through it would say, "I'd prefer not to do that again."